New click & collect and delivery options helping you keep your garden in great shape through COVID-19
We'll help you safely look after your garden during the current lock down restrictions, our team are on hand to offer you help and support when selecting your new mower.
FREE contact free delivery on orders of over £1,000 (Within 50 miles of any of our depots - at Evesham, Bibury, Leominster & Narberth)
Contact free collection from our depots at Evesham, Bibury, Leominster or Narberth

Help finding your perfect match.
Whether it's a walk behind lawn mower, a ride on lawn tractor mower, a strimmer or something else you're looking for, we want to help you find the right machine for your garden. Browse our range on line, if you can't find what you're looking for or need a helping hand, call our TAG2GO hotline for no obligation help and advice.
TAG 2GO HOTLINE - 0345 222 1538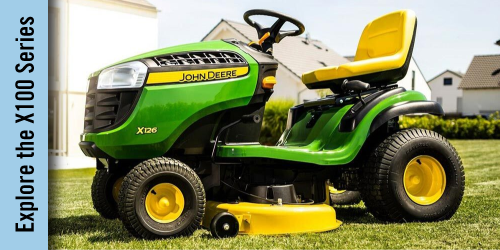 X100 Series Ride on lawnmowers
With six models and a wide range of features an options to choose from, the X100 Series has something for everyone. Designed for lawns of 3,000 to 6,000 m2, these robust lawn tractors are engineered for years of trouble-free service and combine superb cut quality with outstanding ease of use.
Designed for lawns from 3,000 - 6,000 m2 - Similar size to a tennis court.
---

X300 Series Ride on lawnmowers
Designed for larger lawns, these lawn tractors have all the comfort and power needed to get the job done. They have impressive features and are easy to operate. Long wheelbase, low centre of gravity and differential lock make these perfect all-round performers.
Designed for lawns from 6,000 - 8,000 m2 - Similar size to a football pitch.
---

X500 Series Ride on lawnmowers
For ultimate power and performance choose the X500 series. Designed for the largest of lawns, they have deluxe high back seats for added comfort and the highest forward speed in the garden tractor range.
Designed for lawns larger than 7,000 m2.
---

Ztrak Zero Turn Ride on lawnmowers
If agility and speed is top of the list then look no further than the Ztrak Zero-Turn series. With forward speeds up to 14.5kph and the ability to turn on the spot, these mowers are perfect for even the tightest of gardens.
Designed for lawns from 3,000 - 8,000 m2.