The pressures of running a modern agricultural business todayare many and varied. Whilst we aren't able to help with every challenge that comes your way, we are the experts when it comes to machinery.
Why not let us use this expertise to take the strain out of managing the maintenance and repair of your modern machinery fleet?
With our full range of service solutions we can help you to control your machinery costs, giving you piece of mind when investing in a new tractor or self-propelled machine.
At TAG we have something to suit all needs and for all budgets;
Routine maintenance plans
•Fixed Price Servicing
•PowerGard Maintenance Plan
Repair plans
•PowerGard Protection – Basic protection
•PowerGard Protection Plus – Comprehensive protection
•TAG Premium Care - Total protection
Telematics
•JDLink – Remote machine monitoring
Which Package is right for me?
Choose a package form 3 levels with the elements that meets your needs the closest.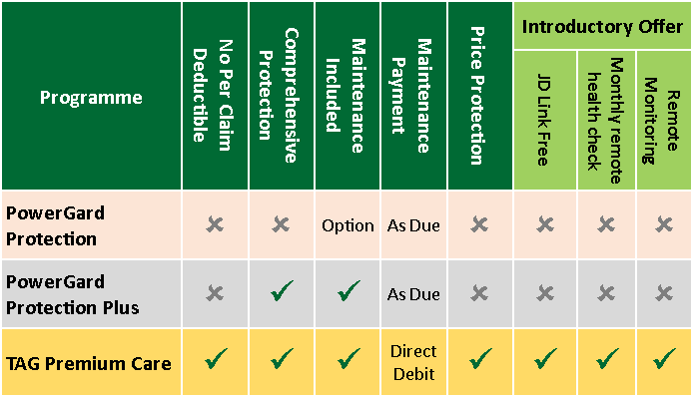 Better Together!
Maintenance is a key part to keeping operating costs to a low. Here at TAG we strive to offer solutions that fit your needs, keep running costs to a minimum and remove the stress of running a large fleet, leaving you to just jump in turn the key and go whenever you need to use your machines.
For further information contact us today and see what we can do to help!