GreenStar Display Options
GreenStar 3 2630 Display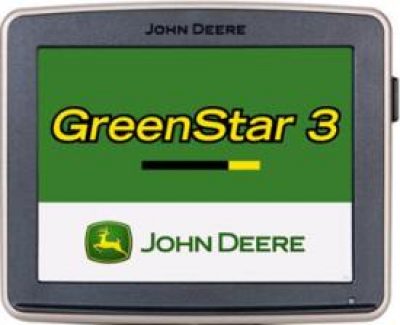 The John Deere GreenStar3 2630 (800mb) is a 26-cm (10.4-in.) colour display that features a touch screen for controlling a variety of precision applications, machines, and implements. The GS3 2630 Display also allows operators to set up multiple home pages and navigate to each home page easily and efficiently, all while other applications are in use. The GS3 2630 Display is specifically designed for producers who desire maximum efficiency, productivity, and premium features.
Gen4 4240 Universal Display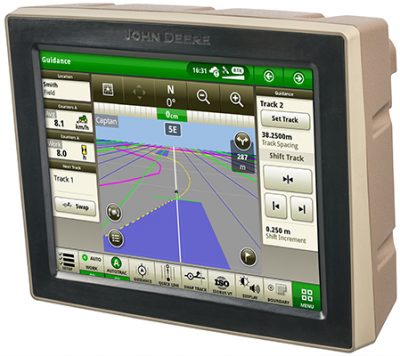 The 4240 (8GB) is a 21.3-cm (8.4-in.) colour touchscreen display that provides the latest update and improved operating experience for legacy John Deere machines and mixed-fleet operators loaded with benefits such as documentation and variable-rate application functionality included in base price of the display, easy setup and startup of operations, documentation and setup data exchange with John Deere Operations Centre through Wireless Data Transfer (WDT) and the ability to precisely map and operate Section Control for up to 255 sections for all ISOBUS implements.
Gen4 4640 Universal Display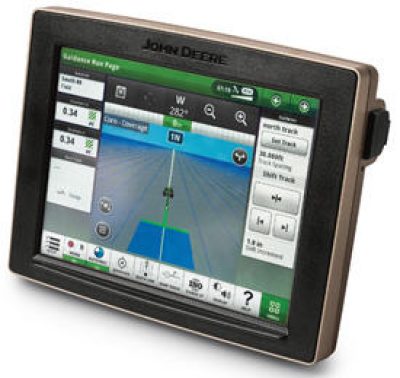 The 4640 (32GB) is a 26.4 cm (10.4 in.) colour touchscreen display that offers the latest John Deere display technology offered in a moveable and user-friendly Gen 4 experience. Providing enhanced usability, increased performance, and greater operator choice, the 4640 Display delivers value by offering all that is available with the 4240 as well as precision application of multiple products simultaneously with individual coverage maps and application points, fully automated headland turns with AutoTrac Turn Automation, passive Autotrac implement guidance and the ability to share coverage map and guidance lines seamlessly with up to six machines.
GreenStar 4 Extended monitor
The Gen 4 Extended Monitor provides a secondary monitor solution for producers who want two monitors to manage their machine and precision ag applications on their 4600 CommandCenter or 4640 Universal Display. Adding the second monitor gives producers in display-intensive operations the ability to view and adjust more of their operations at once.
An Extended Monitor provides the following benefits:
One easy-to-use system
Make adjustments on the go with either monitor in one operating system
Simplified in-cab operating experience
Maximize uptime and minimize setup time with quick and easy plug and play
Increased customization and viewable access
GPS Receiver Accuracy Options
StarFire 6000
The StarFire 6000 with SF3 signal has in-season repeatability (9 months), although the correction signal is received from the geo-stationary StarFire satellites. This is achieved as the SF6000 with SF3 accounts for this tectonic plate movement using mathematic/algorithms and predictive models. It is perfect for certain producers who need in season accuracy, but not long-term repeatability.
StarFire™ 6000 Receive repeatability:
SF1: no repeatability, position drifts over time
SF3: +/- 3-cm (1.2-in.) in-season repeatability (where applicable)
Radio RTK: +/- 2.5-cm (1.0-in.) long-term repeatability
StarFire 1 Signal
The best entry-level signal is now even better. You profit from a +/- 15cm pass-to-pass accuracy, previously +/- 23cm. Free of charge and with GLONASS included.
The perfect starting point for tillage, grassland applications and harvesting:
+/- 15cm pass-to-pass accuracy
Multiple StarFire Tracking
No license fees
Terrain Compensation Module (TCM) in base model
GLONASS in base model
StarFire 3 Signal
The SF3 delivers +/- 3cm pass-to-pass accuracy and 9 months in-season repeatability. Even better, the pull-in time is up to 4 times faster than with SF2. So you can spend more time working in field instead of waiting on the headland or compromising quality.
More accuracy. Ideal for seeding and planting:
+/- 3cm pass-to-pass accuracy
100% accuracy in less than 30 minutes
9 months in-season repeatability
Flexible licence periods
Easily upgradeable
RTK
John Deere Mobile RTK uses the John Deere Mobile RTK network and the John Deere Mobile RTK Signal differential correction signal to obtain real-time kinematic (RTK) accuracy. Since this is a cellular technology, the machine uses the modular telematics gateway (MTG 4G LTE or 3G) or John Deere Mobile RTK modem (4G LTE and 2G) instead of an RTK radio. Using a cellular data connection, the MTG or John Deere Mobile RTK modem connects to a central server to receive the John Deere Mobile RTK Signal from a number of base stations spread throughout the countryside. This central server, cellular towers, and base stations provide RTK accuracy which has been calculated from a number of base stations that make up the network.
The following receivers are required to complete a John Deere Mobile RTK system:
StarFire™ 6000 (SF3 ready) with RTK ready activation
StarFire 3000 (SF2 ready) with RTK ready activation