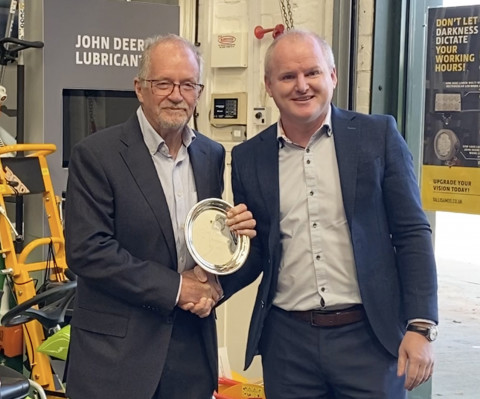 September 21st 2023 marked a significant milestone for Chris and Gill Tallis as they returned to their roots at the TAG Evesham depot, where their journey with John Deere began four decades ago. It was a truly memorable day, as they were joined by colleagues from throughout the years who had supported their business venture and shared their vision. Brian D'arcy and Darren Roe from John Deere UK & Ireland had the honour of presenting Chris and his dedicated team with a special 40th Anniversary award. Brian shared heartfelt words, saying, 'On June 10, 1983, Chris signed his first agreement with John Deere. There was no established customer base, and they faced numerous challenges. We take immense pride in witnessing the "Tallis Amos Group's" incredible journey over the last 40 years—a testament to the tireless efforts of the team. It's inspiring to see Chris Tallis and Alexander & Duncan now thriving as Tallis Amos Group one of the largest John Deere Dealerships in the UK. We eagerly anticipate Tallis Amos' next 40 years with high expectations. On behalf of all at John Deere, we extend our sincere gratitude.'
The depot celebrated this momentous day with a specially crafted 40th Anniversary John Deere cake and shared drinks while reminiscing about the past and reliving memorable moments. Chris showcased his cherished John Deere 8400 and 6910 tractors. Chris was deeply moved by the day's events and reflected on the challenges he faced when starting the business with limited funds and no prior experience in running his own business. His journey began in 1971, leaving college in Scotland to join Oakes Brothers in Hungerford, where he received a valuable education. Even at the age of 21, his vision was clear: he aspired to transform the buildings at Hinton on Green into a thriving machinery dealership. Later, he became a Territory Manager for John Deere, tasked with seeking out new dealers. It became evident that there was an opportunity for a John Deere dealership in the Evesham area. Chris's father's strong ties to local farmers played a pivotal role in the business's success. Gill, Chris's wife and a former nursery nurse, quickly adapted to handling the accounts side of the business. Chris quoted, 'If you enjoy your job, you'll never work a day in your life,' a sentiment he truly felt while collaborating with the dedicated personnel who joined the business over the years.
Chris expressed his gratitude towards the businesses they had strong connections with, acknowledged the Evesham Journal for their unwavering support through local advertising, and extended his heartfelt thanks to John Deere. The John Deere Franchise was the cornerstone of their success, and at the time of launching the business, John Deere stood as a global leader with an impressive range of products that were continuously evolving. Chris thanked several key customer agri-businesses in the area and praised his colleagues for their unwavering support and professionalism. The business's foundation was built on providing excellent service and robust backup support, leading to its continuous growth and success. Chris expressed immense pride in where the business stands today and concluded by quoting John Deere: 'The best days lie ahead, not in the past.' In unison, everyone raised their glasses to toast the dedicated employees, TAG, and John Deere.