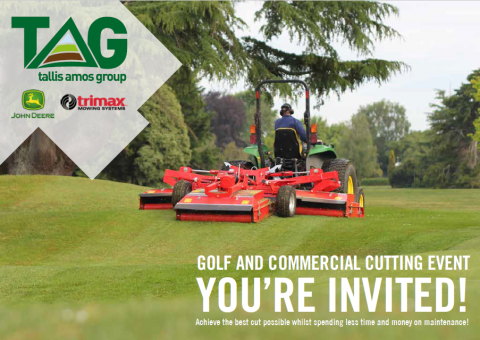 We would like to invite you to our Golf and Commercial cutting event.
You will have the chance to use the machines yourself and experience first-hand the benefits of the quality features on John Deere and Trimax commercial cutting equipment.
There will be a range of machinery showcased such as the John Deere 7700A Fairway Mower, 2500E Greens Mower, 4066R Compact Tractor along with Trimax Snake S2 Rotary Mower and Warlord 175 Heavy Duty Flail Mower.
Venue & Times:
Bransford Golf Club at the Bank House Hotel
Bransford
Worcester
WR6 5JD
Wednesday 8th May 2019 10am – 12pm
Bacon Rolls and Refreshments will be provided upon arrival
RSVP
Please call your local branch on 0345 222 0456 to reserve your place OR Email Kirsty.paddock@tallisamosgroup.co.uk
Please RSVP before 1/05/2019