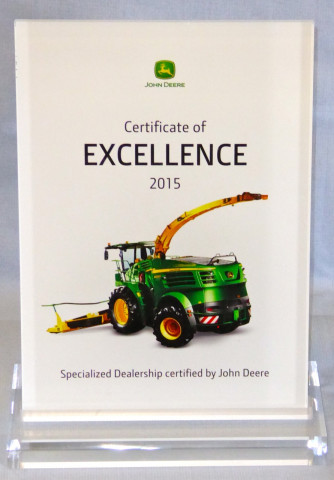 Tallis Amos Group (TAG), with branches in Leominster, Narberth, Dursley, Bibury and Evesham have been recognised in an international achievement award by John Deere, the world's largest manufacturer of farm equipment. The award means that TAG are one of the very top farm equipment dealers, providing specialist support to customers with John Deere Self-propelled Forage Harvesters.
To achieve this status, the company was assessed against strict standards set out by John Deere to ensure superior capabilities in sales, parts and after-sales service for Self-propelled Forage Harvesters at all outlets throughout their territory of responsibility in the West Midlands and South and West Wales.
Commenting on the award, Managing Director, Ben Tallis said, "All kudos goes to our support staff and specialist teams throughout our company, but with an extra special mention for those product specialists in our Leominster and Narberth branches. They have enabled us to reach this globally recognised status, this is further proof of our commitment and investment to supporting our customer base for the long term."
Sales Director, Simon Amos added, "Specialist products such as Self-propelled Forage Harvesters are a major investment for both farmers and agricultural contractors alike. We are delighted that this award recognises our work to ensure that customers have confidence in TAG being able to support them through the whole lifecycle of their machine ownership. Making sure that even the smallest of machine downtime is dealt with promptly and with confidence. We know that our customers have a choice on who to trust when it comes to machinery purchases, and we hope that by experiencing the quality of TAG after-sales service, they will continue to entrust us with their business."
TAG is one of the largest dealer groups in the UK and is defined as a John Deere Dealer of Tomorrow.