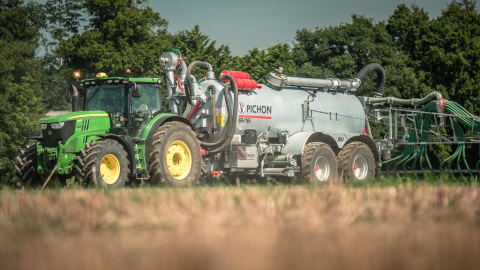 Tallis Amos Group becomes the first SAMSON GROUP dual brand dealer in the United Kingdom
SAMSON GROUP is strengthening its presence in the UK by signing a distribution contract for the SAMSON and PICHON brands with the Wales and West Midlands dealer Tallis Amos Group (TAG).
The accurate application of livestock slurry and liquid digestate is increasingly a focus for many UK livestock and arable farms. In the face of rising fertiliser prices a natural source of organic nutrients is valued for both grassland and arable crops.
By choosing the right slurry tankers and muck spreaders, UK farmers and contractors can make the best economic and environmental gains. SAMSON and PICHON have been trading in the UK market for many years and are already recognised for their build quality and reliability. SAMSON GROUP intends to strengthen its presence in the UK. Therefore, they are pleased to announce that TAG and SAMSON GROUP have signed a distribution agreement for both brands.
TAG is a well-established company and is a major supplier with a strong position in the region. With four outlets, TAG offers an efficient local service to their customers. "This was essential for us as a manufacturer and supplier. We share the values with TAG," says Torben Larsen, Export Sales Manager for both brands.
Common values and ambitions
"We're delighted to be appointed as the first dual franchise SAMSON and PICHON dealers in the UK. With both brands being renowned for their durability and quality, they complement our existing product offering perfectly" said Matthew Thompson, Group Sales Manager of TAG and continues: "we're seeing an increasing demand from customers for accurate application of high-volume muck, slurry and digestate. The addition of SAMSON and PICHON brands allow us to offer large capacity tankers and rear discharge spreaders as well as parts and service support to customers across the West Midlands and South Wales."
TAG has already placed orders for stock and demonstration machines – but more importantly, local farmers and contractors have already taken advantage of the agreement by purchasing machines from SAMSON GROUP.
To ensure our dealers are well placed to sell and support our products, SAMSON GROUP will conduct a series of training events with sales, parts and service staff across the UK. "It is essential to provide users with the best customer experience before, during and after the purchase," says Alex Perrot, UK Sales Manager for SAMSON GROUP.
About SAMSON GROUP
SAMSON GROUP A/S comprises the companies SAMSON AGRO A/S, Samson Agrolize A/S, SAMSON AGRO SASU, SAMSON AGRO SP Z.o.o and Gøma A/S. The group owns the SAMSON and PICHON brands and is a leading European supplier of natural fertiliser machines and associated application technology. SAMSON GROUP has state-of-the-art production units in Denmark, France and Poland and sells its products through a well-established network of dealers.