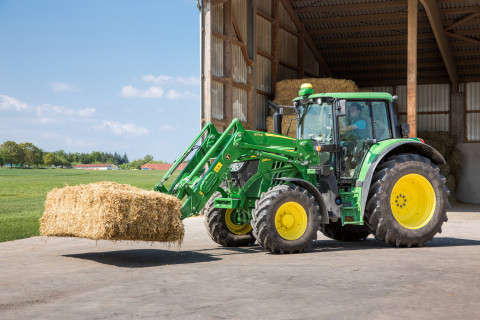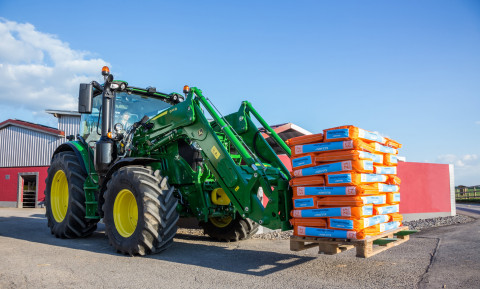 Featuring higher payloads and maximum versatility, John Deere's new generation R Series front loaders are easy to attach and remove and provide smooth, fast and precise handling.
This new line of front loaders has been specifically designed for John Deere Stage IV tractors, but will still be compatible with older Stage IIIA and Stage IIIB tractor ranges. Particularly aimed at livestock customers, the loaders will replace the current H Series models for use with mid-size tractors.
John Deere's loader model numbering system will also be changing, to align with the latest tractor model designations. The first of three digits reflects the loader's tractor series compatibility, and is followed by two digits indicating loader size plus a letter which reflects the specification level. Thus, a 623R loader is compatible with a 6M or 6R Series tractor in the mid-horsepower range, with premium specifications.
Adopting the advanced styling of John Deere's new 6R and 6M Stage IV tractors, the R Series front loaders feature curved booms and enhanced side and front visibility, including optimal positioning of the loader lights for better integration with the tractor styling. The new loaders are also designed to cope with full front axle oscillation, maximum steering angles, fenders and large wheels.
Available from November 2015, the R Series loaders feature a new Z-Kinematic design with relocated pivoting points on the boom, new bushes and an increased roll-back angle to provide up to 10 per cent higher lift capacity. They will be delivered as standard with new mounting frames and an automatic mast latch which allows the front loader to connect to the tractor with a fast, easy 'click & go' action. Buckets and tools can be just as easily attached from the tractor cab using the implement latch.
There is a choice of levelling options from a non self-levelling version to a mechanical or hydraulic self-levelling system, to meet individual customer needs. As an extra option, John Deere's unique RTP Plus return-to-position technology represents state-of-the-art levelling accuracy for all types of implement.
New R Series front loaders – key specifications
| | | | | | | |
| --- | --- | --- | --- | --- | --- | --- |
| Model | John Deere tractor series compatibility | Lift height (mm) | Lift capacity (kg) | Automatic mast & implement latch | Large tyre size compatibility | Electronic self-levelling system |
| 603R | 6MC/6RC | 3900 | 1938 | | | |
| 623R | 6MC/6RC & small 6M/6R | 4100 | 2272 | | | |
| 643R | Small & mid-size 6M/6R | 4300 | 2279 | | | |
| 663R | Mid-size & large 6M/6R | 4500 | 2352 | | | |
| 683R | Large 6M/6R | 4500 | 2538 | | | |