22nd April 2017, 10am - 4pm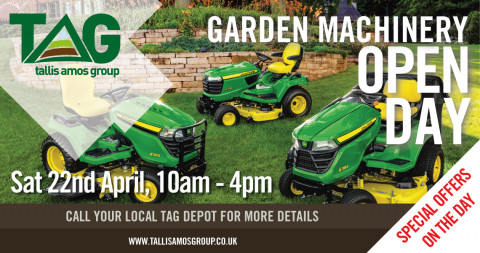 We have all you need to keep your garden in the best shape this spring and summer. John Deere ride on, walk behind and robotic lawn mowers, Stihl chainsaws, strimmers and hedge trimmers.
Join us on the 22nd April from 10am to 4pm and find out why 100% of our customers would recommend us to a friend for their lawn & garden equipment purchases¹.
Our knowledgeable team can talk you through the range and help find the perfect machine for you.
Already got a mower? We also have a wide range of maintenance parts to keep your machine in tip top condition, why not ask about having one of our trained technicians carry out a full service on your mower ready for the mowing season ahead?
At Tallis Amos Group we pride ourselves on looking after our customers, we can provide help and advice getting the best out of your mower, safe machine usage and operation as well as offering a comprehensive aftersales backup.
Refreshments and great offers available on the day.
*** Free Lawn Tractor battery charger and maintenance kit with every tractor purchased ***
Click here to find your local Tallis Amos Group depot.
¹John Deere Experience customer surveys March 2017