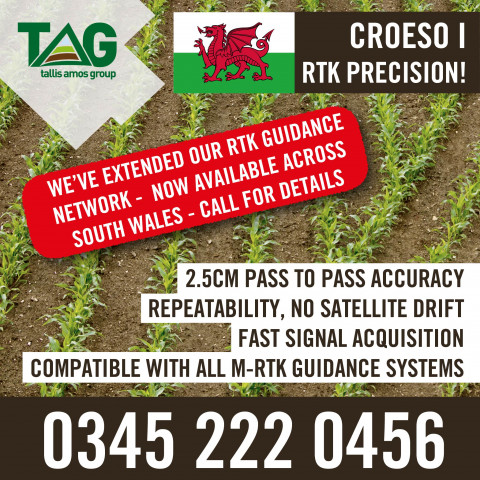 New RTK Network for South West Wales
With the ever-increasing demand for precision agriculture, Tallis Amos Group (TAG) are pleased to announce the extension of their RTK Guidance Network to South West Wales. An investment in new equipment now provides coverage from St David's to Swansea. Offering precision guidance with a pass to pass accuracy of +/- 2.5cm, ideal for even the most demanding of precision ag applications.
"We have been running a network across the West Midlands for the last 6 years" said Trevor Bolton, TAG's Precision Ag Manager, "Our customers have really come to appreciate both the accuracy and reliability of our RTK signal. Our customers are using this new level of accuracy to grow yields whilst make savings by utilising variable rate seed, fertilizer and chemical applications. We're delighted to be able to expand our RTK offering to South Wales"
Whilst RTK is the most accurate guidance solution on the market today, it also benefits from rapid signal acquisition, even in difficult areas and will deliver repeatable accuracy year after year making it perfect for controlled traffic farming. It's also compatible with all M-RTK guidance systems making it suitable for use with both John Deere and competitive equipment.
For more information on this network expansion, and to find out more about the benefit's of RTK Guidance contact Martin Phillips, TAG Narberth's Precision Farming Specialist on 0345 222 0456.