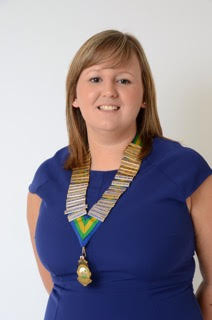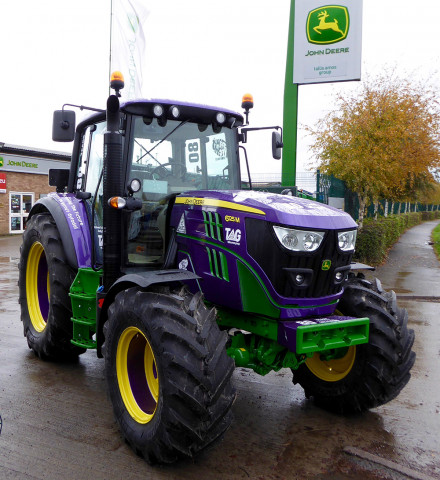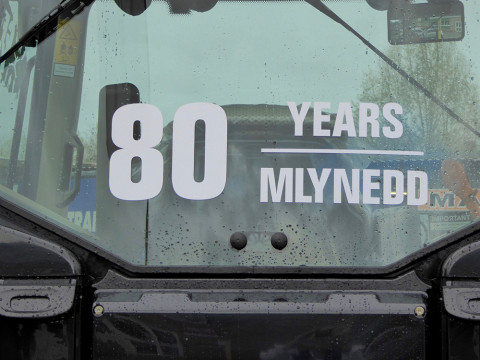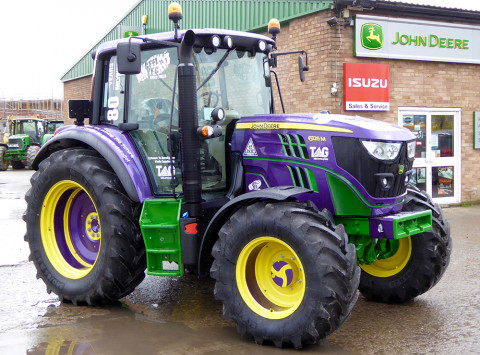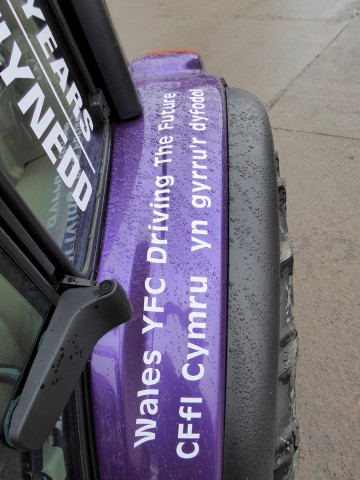 When governmental assistance funding for Wales YFC was reduced this last year, incoming Wales YFC Chair - Vicky Hope, decided that to be able to help other charities, the YFC movement would first have to take care of its own finances.
Wales YFC is a bilingual, rural youth movement with some 6000 members in 157 clubs, spread throughout Wales. The YFC movement's members regularly participate in a variety of events that might include training, inter-club competitions, learning opportunities and community projects, aimed at enhancing life-experiences for its new and existing youth membership. One of their major goals is to help raise funds for local charities and communities.
Said Vicky Hope, "Since I was Vice-chair last year, I have been thinking of ways we could raise our profile in order to replace our government funding and raise awareness of the young farmer club movement in Wales. We also want to help increase our membership as it is a very worthwhile cause. I came up with this purple tractor idea, the colours of our club branding, with a view to holding high-profile fund raising events throughout the country. I've not seen a purple tractor before and thought it would create a distinct awareness throughout rural communities. I've also introduced a tag line of 'Driving the Future'."
So Vicky approached local John Deere dealer, the Tallis Amos Group (TAG) at their Narberth depot in Pembrokeshire and through Branch Manager, Matthew Blackburn and Sales Executive, Stefan Kurtz, they came up with a plan of how to turn a regular John Deere 6125M tractor into a specially decorated 'Purple Tractor,' just for the purpose.
Said Stefan, "The YFC movement in Wales, is a very proactive and favoured organisation, which we always like to help out wherever we can. Many of us have been YFC members ourselves and understand the importance of the movement. Through John Deere and TAG, we managed to secure the use of a John Deere 6125M tractor - free of charge, for a twelve month period, so that it could be used for events such as tractor runs and sponsored activities, throughout Wales, as part of a fund-raising exercise. We had the tractor specially decked-out with the Wales YFC colours, it also celebrates the 80th anniversary of the organisation and we made sure that it included the messages in both Welsh and English. We wanted to acknowledge and enhance the awareness of the organisation being bi-lingual and wanted to further inspire the regional language."
Wales YFC is planning a number of high profile events throughout all the counties in Wales over the next 12 months and these will be publicised throughout the websites of both the Wales YFC as well as TAG. The Wales YFC tractor had its first outing at the Royal Welsh Winter Fair recently, had its first showcase on S4C and reported coverage on BBC Cymru - who also plan to provide live coverage from one of the tractor runs.
In order to help raise the profile, TAG is sponsoring a monthly photo competition for the best entry that is posted on Twitter and FaceBook #Purple Tractor #tallisamosgroup and the best photograph, judged by the TAG management team, will be posted on the TAG website and prizes will be awarded for the monthly winners. At the end of the sponsorship period, all 12 winning photographs will be posted on the TAG and Wales YFC website and there will be an opportunity for all members to vote for the best picture - more details to come.
Added Vicky, "I firmly believe that the YFC is the heart and the future of the agricultural and rural community (hence the tag line Driving the future) and we should be doing as much as we can to promote our movement and all we do for charitable causes." she concluded.