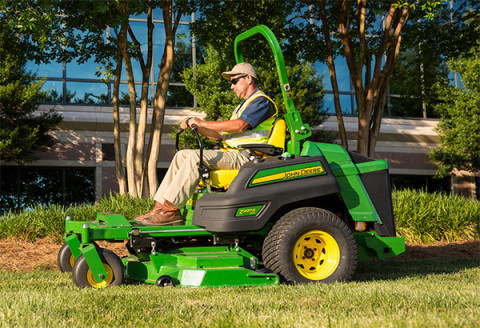 John Deere has enhanced its commercial mower line-up with the launch of the new ZTrak Z997R, the biggest model in the zero-turn range.
This machine offers users a powerful zero-turn option that will maximise acres mowed per hour, without skimping on operator comfort and cut quality. It is designed to excel in the toughest mowing conditions, while providing the fuel economy and durability commercial customers value.
The Z997R features a 28.6hpStage 4 diesel engine, and provides a workhorse solution for customers needing a large zero-turn mower to work in all conditions, including tall and wet grass. The mower is available with a choice of 1.5 or 1.8m (60 or 72in) 7-Iron PRO side discharge rotary decks, or a 1.5m (60in) 7-gauge steel fabricated rear discharge deck.
Dedicated to minimising downtime, decreasing operating costs and improving performance, the Z997R is based on a heavy-duty frame and features a shaft drive to minimise deck belt replacement, as well as flat-free front tyres.
In addition, a variety of options are available to increase operator comfort and reduce fatigue during long working hours. The Z997R comes as standard with a Comfort & Convenience package, which includes a power deck lift to reduce operator strain, ergonomically angled padded hand grips on the steering control levers and a convenient pto cut-off switch. A fully adjustable suspension seat is also available.