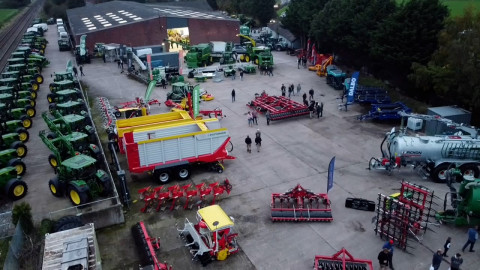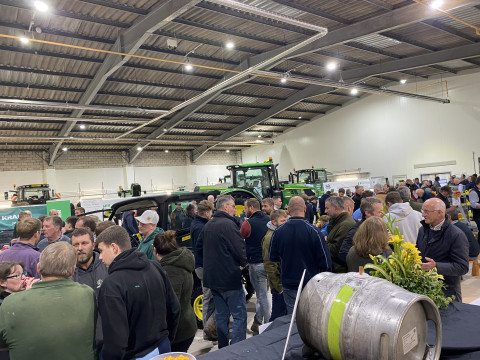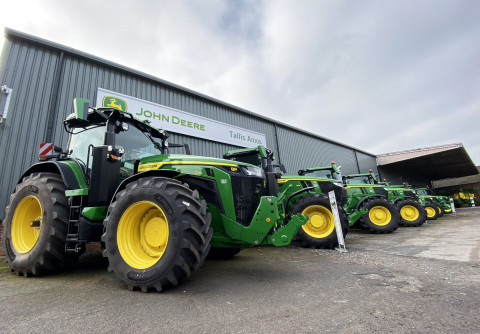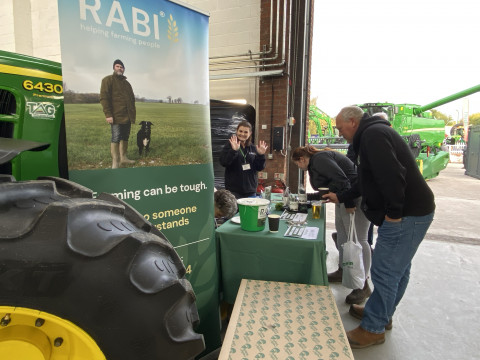 Tallis Amos Group celebrated the official opening of their new depot at Allscott. The event on October 12th marked an exciting milestone in the company's expansion and was a resounding success, receiving strong support, and making a positive impact, with over 600 people visiting the newly opened depot.
Updated Modern Facilities: Tallis Amos Group (TAG) was overwhelmed by the tremendous support at their Grand Opening. Visitors had the opportunity to explore the newly updated modern workshop, shop, facilities as well as the 2.5 acres of yard space.
John Deere's Presence: Representatives from John Deere were present at the event, provide insights into how future technologies can equip farm businesses for increased efficiency and sustainability.
TAG TECH Team Presentation: The TAG TECH team demonstrated the HarvestLab 3000 NIR sensor, which offers detailed analysis of constituents in forage, slurry, and protein in grain. Attendees got a sneak peek at the NEW G5 display technology that would be integrated into John Deere tractors the following year. The event also provided a sneak peek into the new G5 display technology coming to John Deere tractors next year, along with the capabilities of the John Deere Ops Centre app for smartphones. This app facilitates real-time data tracking and analysis, enabling more data-driven decision-making for farming activities.
Digital Transformation in Farming: The event emphasized the importance of digital data in farming. By becoming more data-led, farming activities can become more efficient, reduce costs, and drive production in a more sustainable way.
Free Precision Technologies Review: TAG is offering a free on-site service to review Precision Technologies for businesses, along with free bespoke training provided by the Tag TECH team. This underlines TAG's dedication to helping their customers stay up to date with the latest advancements in precision agriculture.
Machinery Showcase: The event featured an impressive display of over 150 John Deere tractors, including an 8RX on tracks, a John Deere T Series combine, and a John Deere 8600i Self-propelled forage harvester. Many leading agricultural manufacturers also exhibited their machinery, such as Kramer, Mazzotti, Horizon, Pottinger, Pichon, Samson, Shelbourne Reynolds, SUMO, AW Trailers, Taylor Attachments, Lynx Engineering, Teagle, SKY Agriculture, Albutt, AW Trailers and Votex.
Charitable Contribution and Grand Prize Draw: The evening featured a Grand Prize draw with over 30 prizes donated from suppliers, with the main Grand prize a Eurolifter generously donated by Taylor Attachments. The open day raised a grand total of £304.36 for the Royal Agricultural Benevolent Institution (RABI), thank you to all the attendees that contributed.
Commitment to Modern Farming: TAG's strong partnership with John Deere and the wealth of experience within the Allscott team solidifies the depot's role as a cornerstone for agri-businesses in Shropshire and the surrounding area. This event showcases their dedication to delivering cutting-edge technologies and modern farming techniques to local farmers.
TAG Allscott's Grand Opening Event was a well-attended and successful occasion that highlighted TAG's commitment to innovation, technology, and the future of farming. It was an excellent opportunity for farmers and agricultural enthusiasts to explore the latest developments in the industry and connect with like-minded individuals. It's clear this depot is poised for a successful future.