Thumbing through any tractor brochure today, it seems everyone is talking about fuel consumption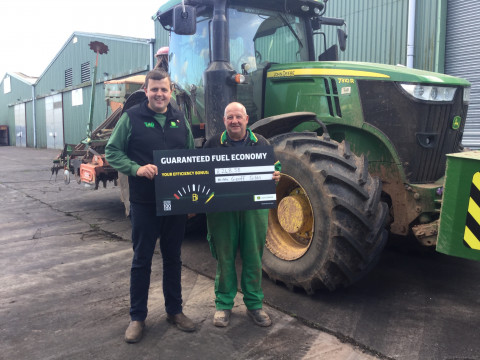 Fuel Guarantee Pays Off
Thumbing through any tractor brochure today, it seems everyone is talking about fuel consumption. When you consider that over the lifetime of a tractor the initial purchase price is a drop in the ocean when compared to the cost of the fuel used to keep it running, it's hardly surprising that that fuel efficiency has become such an important factor when selecting a new tractor.
John Deere's engineers have made impressive progress in optimising fuel consumption in real world applications, during tasks such haulage work, they'd done all the testing and were confident that they had some of the most fuel-efficient tractors in the market place.
In a bold move, last year they launched an industry leading Fuel Guarantee scheme. Putting some weight behind their paper promises. Expected fuel consumption figures were published for a range of 6-cylinder models, customers taking delivery of eligible JD Link equipped tractor could apply for the fuel guarantee programme.
The scheme is simple;
FUEL GUARANTEE - Use more than our target fuel consumption and we'll refund the difference
EFFICIENCY BONUS - Use less than our target fuel consumption and we'll pay you a bonus of 2x the difference
JD Link was crucial to the whole programme, allowing fuel consumption to be monitored remotely, any performance issues could be identified and put right helping to reduce running costs further.
TAG Leominster's customer, Mr Gibbs's came in under the target of 25 l/hr in transport, using an average of just 23.2 l/hr in his 7310R. Tom Folly presented Melvyn Thomas, Mr Gibbs' operator with an Efficiency Bonus cheque for £248.58
John Deere are continuing their Fuel Guarantee scheme for new tractors, proving that an investment in John Deere technology pays off on the road and in the field. Ask your sales representative for more information.