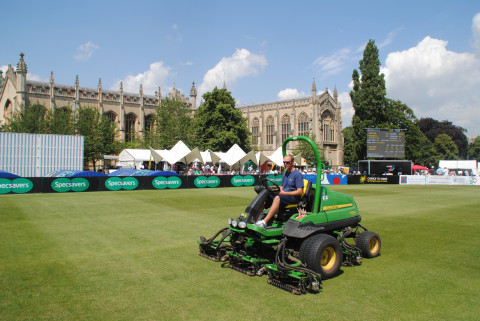 A new John Deere 7700A PrecisionCut ride-on cylinder mower supplied by dealer Tallis Amos Group has been presenting players and spectators at the Brewin Dolphin Cheltenham Cricket Festival with a perfectly mown and presented outfield on Cheltenham College first XI's pitch.
This annual event, which is organised by Gloucestershire Cricket Club, is the world's longest running cricket festival on an outfield and has taken place against the picturesque backdrop of Cheltenham College since its inception in 1872.
The two-week long festival has been sponsored by Brewin Dolphin for the past 15 years and the 2016 tournament was one of the most exciting yet – for the first time international cricket was played at this historic ground. Spectators were treated to two Specsavers County Championship matches, one NatWest T20 Blast, two tourist matches including England Lions, and one Royal London One-Day Cup match.
It was a programme that put a lot of pressure on Christian Brain, Cheltenham College's head groundsman, and his six staff; pressure that has been alleviated with the purchase of the John Deere 7700A mower.
"We can mow only at the end of the day's play, which can be late in the evening," says Christian. "Our previous ride-on was a three-cylinder model and we always struggled to get round the outfield in the time available, plus it was old and there were breakdown issues. The five-cylinder 7700A enables us to mow the area far quicker, within an hour rather than an hour-and-a-half."
Spring 2015 saw the start of the search for a replacement mower, when Cheltenham College had two competitive five-cylinder ride-ons on demonstration. "We chose the 7700A for a number of reasons," says Christian. "John Deere has an excellent reputation for quality of cut and reliability, and we have a good relationship with the local dealer Tallis Amos Group (TAG), who are on our doorstep in Evesham.
"We knew that their back-up would be good if there were any issues and they were extremely accommodating. They let us have a 7700A on trial for the whole fortnight of last year's Festival, so we had plenty of time to evaluate the mower and give it a good workout under practical conditions."
TAG delivered the 7700A in September, when it joined a John Deere 2653A ride-on triple fitted with grass boxes and an HPX Gator 4x4 utility vehicle. Prior to the Festival, during the summer term the 7700A is used to cut the outfield on the College's first XI cricket pitch and maintain a further two College grounds, the prep school's and Reeves Field. After the Festival the cutting height is raised and it moves onto preparing the rugby pitches. "The mower is in use virtually year-round," says Christian.
During the Festival the 7700A's primary role is maintaining the College first XI's outfield at a cutting height of 13mm and overall width of 2.5m, producing as Christian says a "far superior" quality of cut from the seven-blade QA (Quick Adjust) reels. "TAG programmed the TechControl display to our specification regarding forward and reel speeds so the mower runs smoothly," he says. "It is comfortable to operate, with effortless steering and turning. Maintenance is also straightforward. One member of staff is dedicated to this and he carried out the 7700A's 200-hour service without any problem.
"The mower's LoadMatch system is efficient, so it doesn't struggle in lusher grass, and fuel economy is much better than our previous machine's. We usually have to change the cutting height only twice a year, for a summer cut and a much longer winter cut, but the QA feature means that this can be done comfortably within a couple of hours, and the fine adjustments within minutes. These are all technical features that enable us to get the job done quicker and more efficiently."
In addition to the mower's output and high standard of cut, the 7700A has also allowed the look of the outfield to be improved significantly, while contributing to the promotion of a healthier sward. "With our previous mower we could cut only in one direction, which is not good for the grass as it pushes it one way," says Christian.
"The 7700A is fitted with groomers, which lift the grass and also enable us to create a chequered pattern – we now intend to do this on as many pitches as we can throughout the year. We have had no technical issues with the mower, which has taken the pressure off the staff during an intense period, while enabling us to improve the quality of cut on the outfield and its presentation. Throughout the Festival the umpires congratulated us on the condition of the pitch."