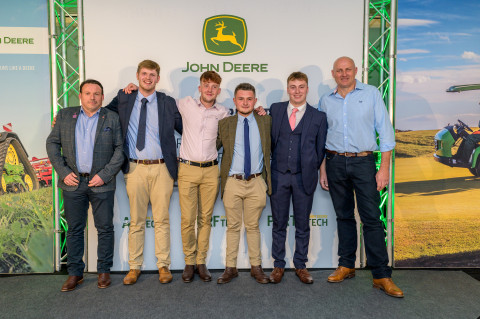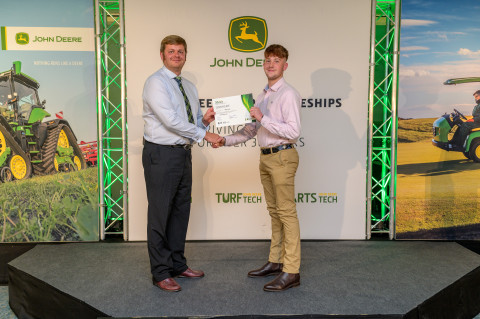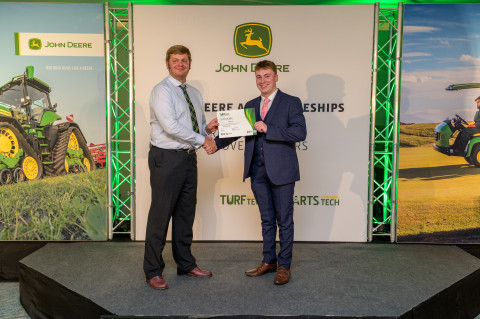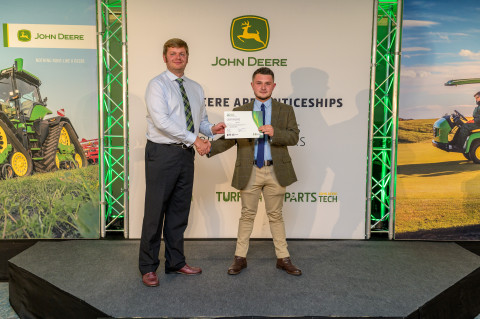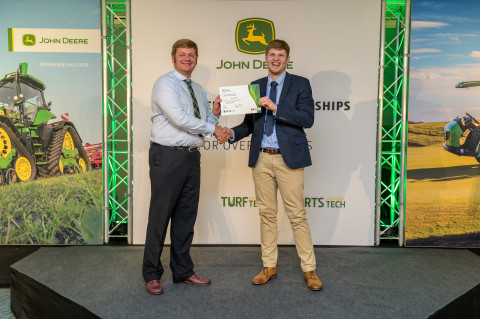 A 39-strong group of John Deere apprentices are starting the next stage of their careers having qualified as service and parts technicians working in dealerships across the UK including 4 from Tallis Amos Group.
The talented cohort's achievements were recognised at a graduation ceremony in Nottingham on Friday night (20 October) at a dinner attended by their friends, family and mentors who have been at their side throughout the course.
It was also an evening of celebration for 17 Master Technicians – individuals who have achieved the top-tier service technician qualification – who received their prizes at the event.
John Deere Branch Training Manager Allan Cochran said: "Our industry-leading apprenticeship programme has been running for more than 30 years and has trained well over 1,100 talented individuals who have gone on to have exciting careers across the John Deere dealership network.
"Graduation ceremonies are always special, and this was no exception. To be able to celebrate the fantastic achievements of those in the room was hugely rewarding for John Deere as a company, as well for the dealers who have helped nurture this talented group to reach its potential.
"We wish the graduates all the best as they embark on the next stage of their careers within the John Deere family, and look forward to working alongside them long into the future."
Prizes were presented by Will Young – best known as Farmer Will on TikTok – who addressed the room on life as an influencer creating content on a farm.
During the evening, presenters acknowledged that many of the class of 2023 had taken on apprenticeships during one of the most challenging times in the programme's history.
For many, the covid lockdown took effect just six months into their studies, meaning distanced learning replaced what had been intended as classroom sessions.
"The apprentices coped admirably with the challenge laid down to them," Allan said. "Being able to adapt to new and changing surroundings and issues is part of being a technician, but this group of young people did themselves proud in the face of adversity."
John Deere's apprenticeship programme is provided by ProVQ and involves students being trained in engineering, electronics, hydraulics, diagnostics, communication skills, computing, sales, and marketing.
Ag Tech and Turf Tech candidates study towards the land-based service engineering technician qualification (level 3), while in Parts Tech individuals complete a retailer apprenticeship standard (level 2).
New students are enrolled each year, and the standard programmes include on-the-job training and assessment as well as up to eight weeks each year at the John Deere Apprentice Training Centre.
To find out more about starting a John Deere apprenticeship, or to apply for open positions, go to dealerjobs.deere.com.
Congratulations to the 2023 TAG Apprentice Graduates achieving a level 3 apprenticeship in Land Based Service Engineering
Michael Cock - TAG Kemble AG
Ellis Morris - TAG Evesham Turf
Ben Vose - TAG Evesham AG
Lewis Gutteridge - TAG Allscott AG